Tamagotchi Pix faceplate - Gourmet Town
Regular price

Sale price

$3.80 USD

Unit price

per
Love the Tamagotchi Pix but hate the original faceplate design? We provide custom-designed faceplates for your Tamagotchi Pix. Now you can enjoy your Tamagotchi with your favorite designs! 
Buy 3 or more faceplates, get 30% off! (Apply the discount code FACEPLATE30 during checkout) 
Faceplate fits Tamagotchi Pix (all versions). 
Printed on quality gloss finished paper so its durable and water proof! 
Please note that all our faceplates are cut by hand and not by machine so it will not be 100% perfect, but rest assured we will cut as neatly as possible. 
Please note that you will have to remove the faceplate by yourself before you can insert this. CLICK HERE for a step by step instruction guide on how to remove Tamagotch Pix Faceplate. 
Share
READ BEFORE ORDERING: Order & Delivery Info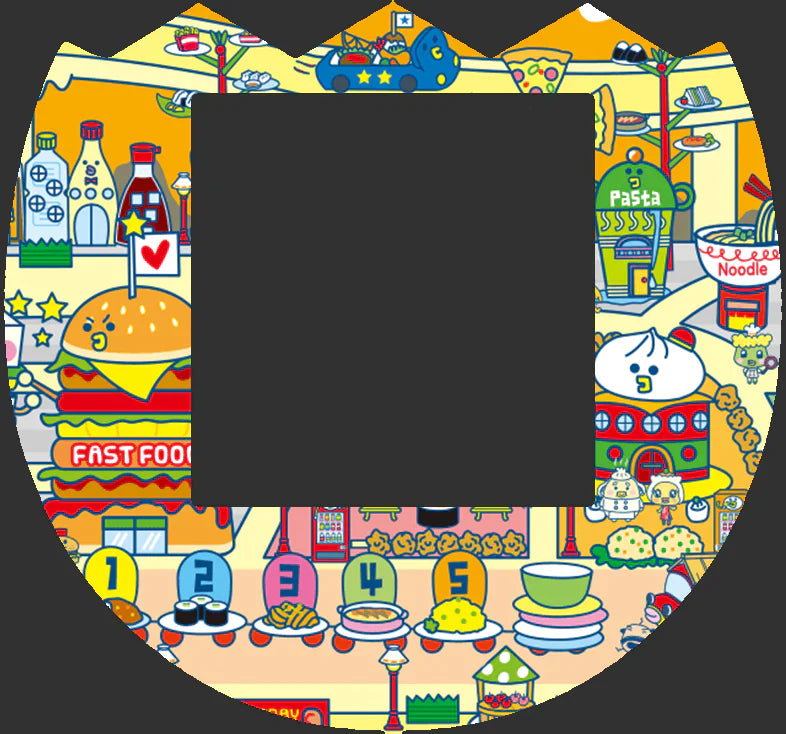 Order & Delivery
How to place an order
To place an order, simply add your items to cart and checkout. If you do not see an item that you want, shoot us a message on Telegram @fuzzynchic or email info@fuzzy-n-chic.com to enquire.
Mode of Payment
You can pay by credit card, PayPal, or PayNow (for Singapore customers). 
Wait time for handmade products
Depending on the amount of orders we have on hand, there will be a 3-4 week wait for all handmade products, especially Tamagotchi crochet covers, as the covers are handmade one by one. We make the covers according to the sequence the order was received. Apologies for any inconvenience caused and seek your kind understanding.
Shipping Wait Time & Delays
We ship from Singapore. Shipping time to most Asian countries will take approximately 1-2 weeks, while shipping to the rest of the world will take 2-3 weeks. 
In the rare event that your shipment is delayed up to 6 weeks from the date of shipment, please contact us for further assistance. 
Shipping Rates
| | |
| --- | --- |
| Country | Rates |
| Singapore (Normal Mail) | SGD 1.50 |
| Singapore (Registered Mail) | SGD 3.00 onwards |
| Malaysia, Brunei | SGD 8.50 onwards |
| Bangladesh, Bhutan, Cambodia, China, Hong Kong, India, Indonesia, Laos, Macao, Maldives, Mongolia, Myanmar, Nepal, Pakistan, Philippines, South Korea, Sri Lanka, Taiwan, Thailand, Vietnam, Cook Islands, Fiji, French Polynesia, Kiribati, Nauru, New Caledonia, Niue, Papua New Guinea, Pitcairn Islands, Samoa, Solomon Islands, Timor-Leste, Tokelau, Tonga, Tuvalu, Vanuatu, Wallis & Futuna, American Samoa, Marshall Islands, Northern Mariana Islands, Palau. | SGD 10.50 onwards |
| Rest of the World | SGD 14.00 onwards |
Unclaimed Shipment
In the event of unclaimed shipment, your parcel may be returned to us if  you have provided us with an incorrect address, or if it is left unclaimed with your local postal service for a long period of time (usually 1 month, depending on your country). If we have receieved the returned unclaimed parcel for these 2 reasons, and you wish for us to ship it to you again, you will need to pay the shipping fee again. If you prefer a refund instead, the amount that will be refunded to you will be 90% of the cost of the item, excluding shipping fee. This is to cover the processing fees which include packaging/transporting and labor fees.
Refund
If your change your mind about an order and it is not yet shipped, a full refund may be given to you. However, if the item is already shipped, then no refunds will be given. 
Faulty Products
We strive to ensure all our products are of excellent quality and good condition before shipping to you. If, in the rare event that you believe you have received a faulty product, please do not hesitate to contact us via Telegram @fuzzynchic or email info@fuzzy-n-chic.com and we will assist you. 
Meet Up (For orders within Singapore only)
I also accept cash payment for meet-up arrangements. Please note that meet-ups are subject to availability and our convenience. Drop us a message on Telegram @fuzzynchic or email info@fuzzy-n-chic.com to enquire.